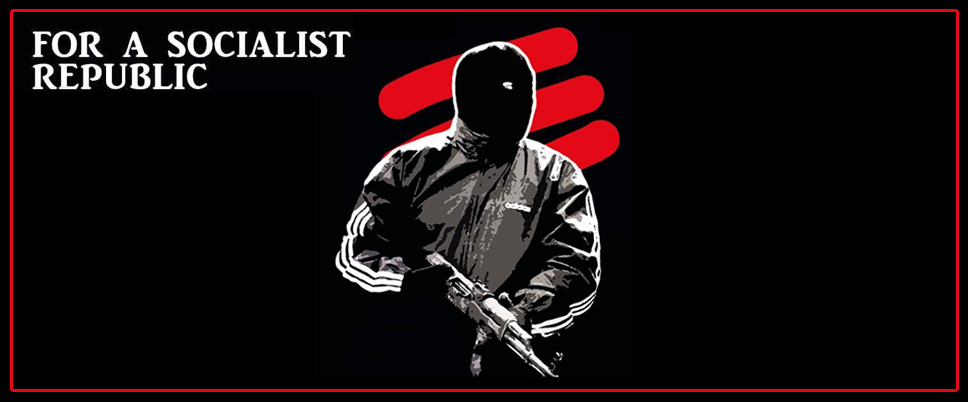 (Text in English, further down)
kamrater, kampen fortsätter.

Föreningen Irlandinformation vill hälsa och tacka våra medlemmar och sympatisörer för det arbete och stöd som givits frihetskampen på Irland under året. I påskas kunde vår delegation överlämna en större summa pengar till de republikanska fångarnas stödorganisation. En gåva som var mycket uppskattad.
Första Maj är arbetarklassens och frihetskampens dag. En dag för solidaritet, en dag då klasskampens krav manifesteras.
På Irland utsätts nu den republikanska rörelsen för en kraftig attack. Inte annat att räkna med. Bourgeoisien och dess medlöpare tar varje tillfälle, vid varje misstag från upprorets sida till att attackera själva tanken på uppror. Tanken att upproret, att motståndet har någon orsak, något skäl, måste misskrediteras och smutskastas.
För oss gäller det att försvara upproret, visa dess rättfärdighet, stå fast i vårt stöd. Om vi sviktar, vilka vinner på det?
Idag, Första Maj, går vi ut på gator och torg med vårt stöd till våra kamrater i den republikanska rörelsen. Idag, Första Maj, visar vi vår solidaritet.
Det uppror som startade 1916 har inte avslutats.
Kampen fortsätter, kamrater.
/Irlandinformation
1 maj, 2019
---
Comrades, the fight continues.
The Ireland Information Group of Sweden wants to greet and thank our members and sympathizers for the work and support given to the freedom struggle in Ireland during the year. During Easter, our deligation was able to hand over a large amount of money to one of the support organizations for Republican prisoners. A gift that was very appreciated.
May 1st is the day of the working class and freedom struggle. A day of solidarity, a day when the class struggle is manifested.
In Ireland, the Republican movement is now being subjected to a heavy attack. Nothing else is to expect.The bourgeoisie and its followers take every opportunity to attack the very thought of rebellion. The idea that the rebellion, the resistance has any cause, any reason, is constantly discredited.
For us, defending the struggle, showing its righteousness, and standing firm in our support is of utmost importance. If we fail to do so, who will benefit from it?
Today, May 1st, we go out into the streets and squares with our support for our comrades in the Republican movement.
Today, May 1st, we show our solidarity.
The uprising that started in 1916 has not been completed.
The fight continues, comrades.
/Ireland Information Group of Sweden
May 1, 2019